THE ELDORADO STONE CONNECT SYSTEM
INSTALL STONE WITH A SIMPLIFIED MORTARLESS SYSTEM COMPLETE WITH AIR CAVITY
The Eldorado Stone® CONNECT system offers the authenticity and natural details of Eldorado Stone in a clip system for additional installation and wall performance benefits. The CONNECT system installs easily with screws and creates a 10mm air gap between stone and wall. The air gap allows water and air to pass behind the stone, creating a rainscreen for wet environments. The clip system also allows for simple installation in colder climates where mortar can be difficult to manage.
The CONNECT system is an easy-to-use clip system that allows you to install specially designed Eldorado Stone® profiles onto a wall without the use of mortar.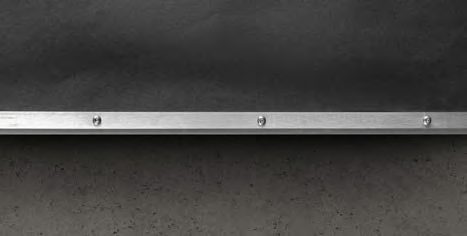 1. A metal starter strip is screwed near the bottom of the wall.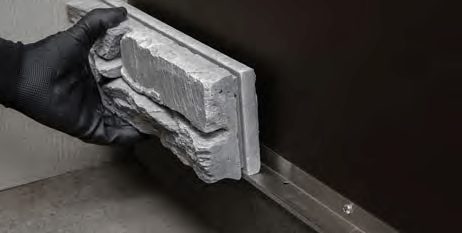 2. Each stone has a groove that allows it to easily sit on the metal starter strip.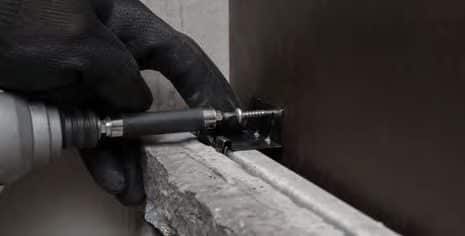 3. Fastening clips are placed in the top grooves of the stone and screwed to the wall to secure the stone's placement.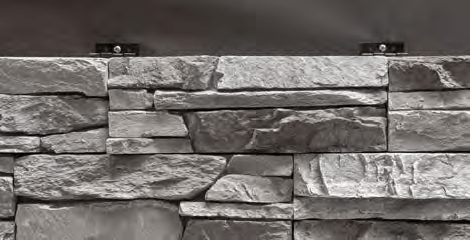 4. Additional rows are easily installed with the placement of stones and fastening clips.​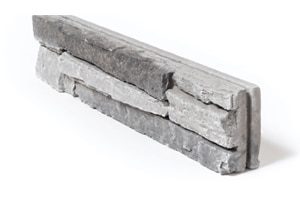 Flat panels are available in different lengths and each panel has a rich variation in colour.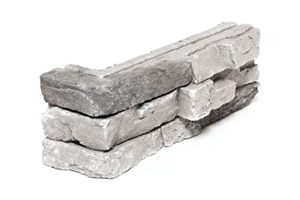 Corners are available in different lengths to allow for a staggered, natural look during installation.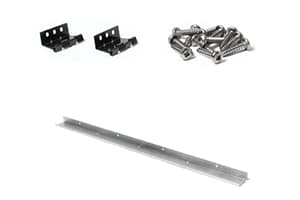 A variety of hardware is available to complete your CONNECT system installation. Available hardware includes black oxide coated stainless steel fastening clips; stainless steel starter strips; and 1" stainless steel #2 square-drive, pan-head self-tapping screws.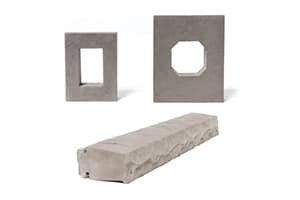 Accessories are created by hand to meticulously emphasize unique colour hues and detailed characteristics. Available accessories include outlet boxes, light boxes and wainscot sills. Accessories are available in the following colours: Earth, Buckskin, Charcoal, Smoke and White Cloud.
The classic elegance and intricate detail of small stones combined with the simplicity of a panel system create a carefully hand-laid drystack appearance.  Stones 4″ high and in varying lengths of 8″, 12″ and 20″ make installation easy for expansive walls and column fascias alike.
The number 33 represents the 3″ height and 3 different lengths of 12″, 18″ and 24″ of stone within the LedgeCut33 profile. Individual pieces guarantee a natural and authentic appearance which is easy to handle, cut and install.